When my mother was a little girl, she traveled to many places near Nagercoil, where she lived back then with her maternal grandparents. I asked my mom about her trips and she narrated the details to me before the pandemic. It brought me great joy to take down notes of her travel and immerse myself in her stories from her childhood.
Here are a few of the places she visited as a child:
Azhagamman Temple – The closest temple to Vadiveeswaram, in Nagercoil, was the Azhagamman temple. It's a huge temple with the Siva Linga, Pillaiyar deity, and large gopurams. Azhagamman is a form of Parvati.  There, they would have a 10-day 'tirunal.' There is also a temple pond. On the ninth day, they would have the car festival or therottam. My mother experienced the 'tirunal' every year in March for about ten years.
Thiruchendur – It is by the shore of the Bay of Bengal in Tamil Nadu. It is one of the 'arupadai veedus' of Lord Muruga. My mom's maternal grandfather was a trustee of the Thiruchendur temple. So, every year, my mom and her grandparents would go there by train, stay at a lodge and watch the performances. There would be a temple elephant and a stage for dances. This famous temple is featured on TV quite often. Near the seaside, there would be springs of fresh water where they would bathe. They visited the cave where Lord Muruga met his consort, Valli. They would perform abhishekam and give a small 'vel' and garlands to my mom. The idol of Lord Muruga there is of Bala Murugan or young Muruga. In the evenings, there would be paatucutcherries and performances. It is a shore temple with the lovely sea breeze.
Kanya Kumari – My mother has been there at least eight times. It's about 12 miles from Nagercoil by car. She would go with her relatives. There would be a fruit orchard before reaching Kanya Kumari, which is the meeting of three seas. You can see both sunrise and sunset over the sea and clear blue waters all around. My mother has visited Gandhi Mandapam and the temple at Kanyakumari. Goddess Parvati is called Kanyakumari because she wanted to marry Lord Shiva, but it did not happen. So, she remained a kanya kumari all her life. There was a place in the temple where musical notes made of stone could be struck.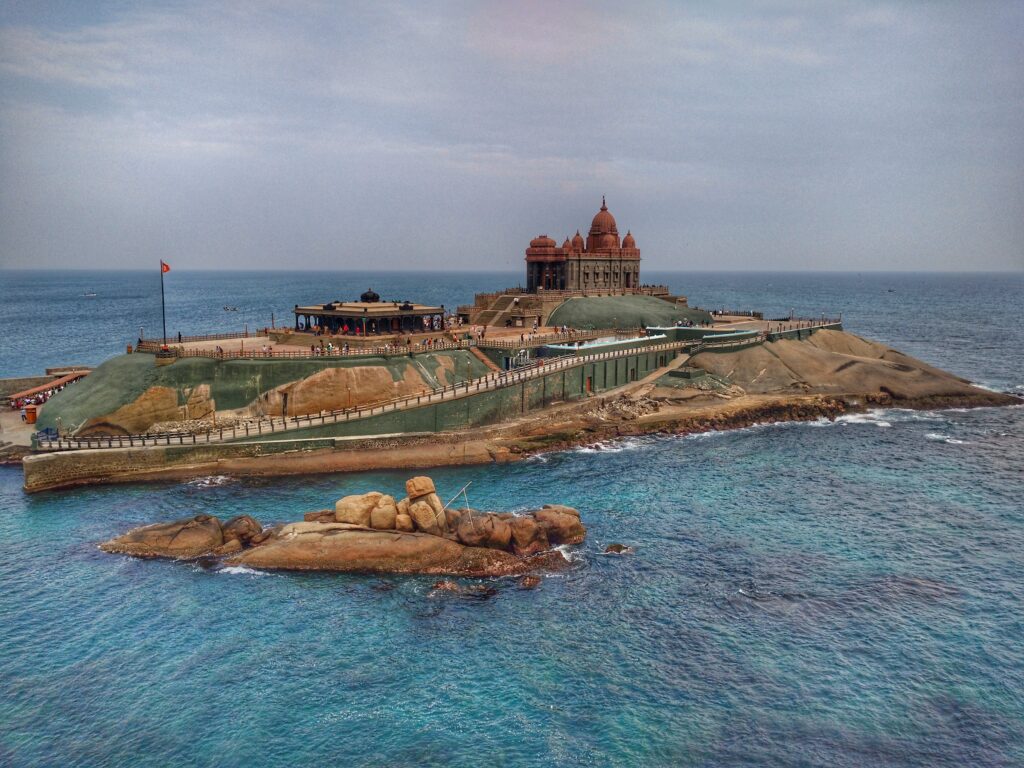 Pic of Vivekananda Rock from Unsplash
Vivekananda Rock – My mother used to take a ferry and go to the prayer hall where Swami Vivekananda is said to have meditated. When my mother visited the place, she noticed that the sand was black, red, and white, in places. She recalls making sand castles in the clean sand in the early 1960s.  After my mother was married to my dad, she visited Kanya Kumari once with my dad and his parents. There would be rocks on the beach in Kanya Kumari and it was not considered safe for swimming. Initially, my mother would pick seashells. Later on, people started selling necklaces made of sea shells in tiny shops. My mother last went to Kanya Kumari in 1978. Her mother's friends joined them at Suseendhiram temple on the way.
Suseendhiram trip – Sthanumalayan temple with a huge idol of Hanuman and a Shiva Linga represents the Viswaroopam of Hanuman. There used to be a garden with peacocks in the temple. The gopuram is big and distinctive. There is also a tank.
Velli Malai – My mother went to Velli Malai after I was a few months old. She left me behind with her grandmother. My mother and her mother hired a car and went with another relative. It was near the seaside in Kanyakumari district. It was on a small hill. They climbed the hill for a darshan of Lord Muruga and a view of the sea. It was a quiet place revealing the natural beauty of the seaside.
Trip to Pazhayannur – When my mother was ten years old, her father had come to Nagercoil from Delhi on the way to visiting his parents in Pazhayannur. My mom and her dad took a bus to Trivandrum and then a train to Thrissur. They took another bus to Pazhayannur from Thrissur. They didn't have reservations, so my mom recalls sleeping on the floor of the train. It was an overnight journey.
There is a temple next to the Pazhayannur house and a pond where people bathed. My mother could look out of the kitchen window and see the pond. As soon as my mom and her dad reached the house, my mom's aunt brought an aarti to welcome them. There were trees of mango, jackfruit, and pavazhamalli around the house. There was a ground floor and a first floor with several rooms, a library, and a kitchen garden. Books like 'Brave New World' were there in the home library. They ate jackfruit jam prepared by the ladies. It was a quiet place, but my mother explored the woods nearby. She would touch the 'touch-me-nots' on the way.
They went from Pazhayannur to Guruvayur. My mom bought a small lamp. She went to Bhagavathy temple where they kept a lot of hens. There would be mongooses near the house in Pazhayannur. That was the first time my mother saw a mongoose.
At age eight, my mother went with her grandmother from Nagercoil to Madras (now Chennai) by bus. There was a lot of greenery on the way, trees with monkeys, and banana groves. The sun streamed into the bus and my mother sat quietly during the trip.
I marvel at my mom's ability to enjoy traveling and remember tiny details about trips she has taken decades ago. My mother is good at traveling alone as well, since she is good with directions, can read maps and find her way around places.