I bought Bevinda Collaco's 'I'm old, I'm wise and I know my shit' – 'for the woman without a plan and a man without a clue' several months ago. I read it over a few months. She writes about peer pressure and explains that "adolescence is a horrible time of life, see-sawing between the awesome confidence of childhood and the extreme self-doubt of stepping into the adult world." She tells us how we make several poor decisions at that age. She writes about how so-called "mutual I love you's' can go south in six months or sooner. She also says a bad relationship can mess up one's life permanently if one allows it. She tells us how to handle all the crap that life throws at us- by having a bullshit radar. If something sounds too good to be true, it probably is. She questions what society feeds young women with – fairy tales that lead to unrealistic expectations about love and romance.
She is quite 'in your face' in her style of writing and uses the tone of someone who won't spare you the truth just to be polite.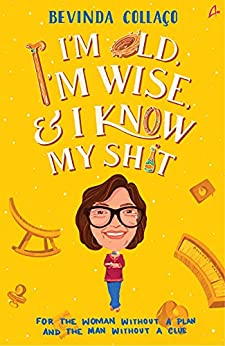 In later chapters, she also outlines the exact modus operandi of a toxic, possibly psychopathic man and how he can cut you off from friends and family so that you get more and more powerless and he starts abusing you verbally and physically. When one reads these chapters, the clueless reader becomes more clued into reality, especially in today's times. After reading horror stories of abuse and murder in the papers all the time, especially the recent cases, one can't help but wonder why Bevinda's book isn't made compulsory reading! It could really save readers from potentially dangerous situations.
She also gives us the skinny on marriage and motherhood. Single women with stars in their eyes dreaming of marriage are more likely to take a step back and understand the lies they are fed that make them aspire to marriage and motherhood. As a single woman, I'm finally appreciating my singlehood. It's so awesome and worth celebrating! Women could fall into a lot of traps in life and Bevinda's book cautions the reader about every single one of them. I thank Bevinda for passing on her wisdom to 'clueless women' and after reading this book, I feel there is a bond between me as a reader and her as the author for having passed down the wisdom of the ages.