I recently read 'The Rudest Book Ever' by YouTube influencer Shwetabh Gangwar. And no, if you are wondering, the contents of the book are not "rude". In the author's own words, "This book is a collection of ideas, principles and perspectives. It is about practical learnings and making slight changes in the way you see things, which may help you avoid a lot of headache."
In 13 chapters and 226 pages, the author introduces a lot of concepts and touches upon several psychological terms and definitions.
In this book, the author covers:
The Dunning-Kruger Effect
Belief Perseverance or Backfire Effect
Cognitive Reappraisal
Self-distancing
Socioemotional selectivity theory
Enmeshment
Arrival Fallacy
Present Bias
Hyperbolic Discounting
Social discounting
The negativity bias
Solomon's Paradox
Social comparison theory
Spotlight effect
The halo effect
Cognitive dissonance, etc.,
These terms are woven into the chapters and not referenced or indexed in a glossary, which may have improved the reading experience.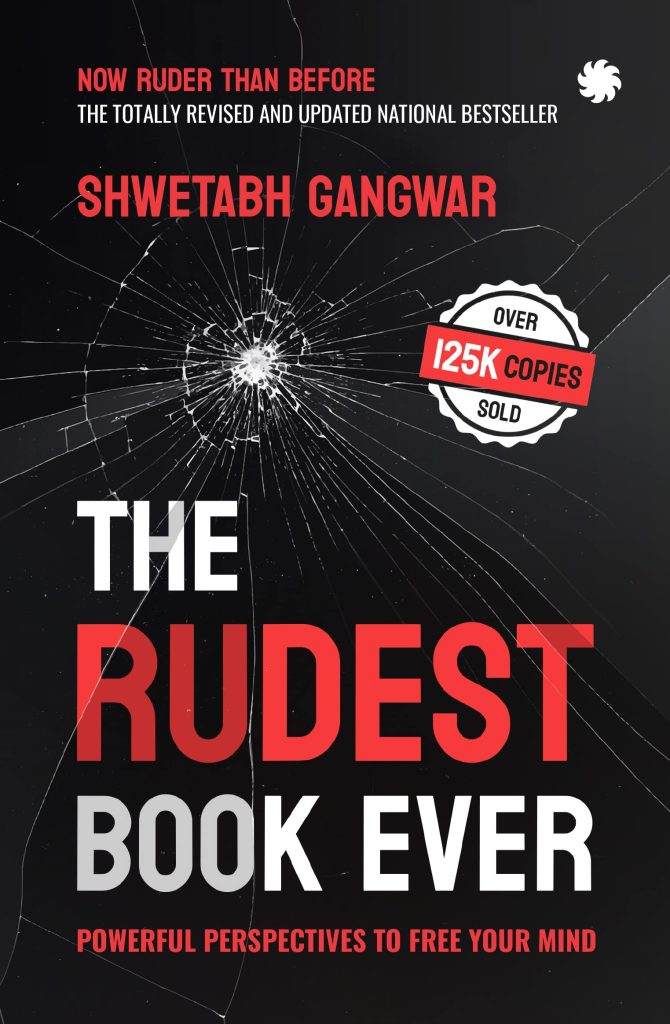 The author starts the book with the idea that we are all products with hope attached. One day we are expected to transform into a smart, able unit capable of choosing jobs, careers, relationships and environments for ourselves.
Every one of us has to learn how to learn and how to think. The author points us in the right direction as to how we can go about this and not be swayed by the group we belong to or influencers who try to tell us how we should think. The irony of this was not lost on me.
The imaginary conversation between a parent and child in Chapter one was humorously written.
As we get older, our perception of life changes from chasing ambitions, money and desires to getting close to family, friends, religion and mending relationships.
The author introduces a novel idea of seeing oneself as a nation. He builds the concept in one chapter. In another chapter, he asks us how much we actually know ourselves. He talks about how first impressions often fool people and how we need to rely on data. There's even a chapter on sex education for young people, although this is written from a male perspective.
The author highlights that how we think matters much more than how much we know. A thinker is a pursuer of the truth about reality. They may not discover reality as it is but they almost never mistake narratives for what they are not.
He advises readers not to seek approbation from outside and look to the self for answers.
My favourite bit in the book was about defamiliarisation. Defamiliarisation is a common literature technique, which has been employed famously by many novelists like Tolstoy, Nabokov, Kazuo Ishiguro, Martin Amis and more. It means defamiliarizing things you know and relooking things that you are familiar with from a new set of eyes and in a new way.
On the whole, the book is a collection of thoughts, advice and self-help material that can help us rethink our ways and open our minds to new ways of thinking.
I thank Juggernaut Books for the review copy.